More time enjoying your garden, less time watering it
Let a worry-free Raindrip® automatic watering system do the watering for you.
Our System:
Raindrip Automatic Watering Kits with Timer
Raindrip Automatic Watering Systems are simple to use drip watering kits that water flowers, shrubs and trees in your landscape areas (not for lawn use). They're water efficient, simple to install and most* include a battery-operated timer so you can set your system to water automatically.
Affordable, simple automated landscape watering is here at last.
Treat your plants right all year round with our tool-free all-in-one kits. Most kits come with a timer that automates your watering. Need more? Expand easily with our expansion products, available online.
Drip watering delivers just the right amount of water slowly and precisely to each plant or plant area, right where your plants need it - their root zone. Even better, less water is wasted compared with regular watering.
Plants get the right amount of water directly to their root zone.
Set up the timer once and it automates the process.
All connections are designed to be hand connected and tightened.
More than 10 plants? Easily fit the system to your landscape.
Water savings of up to 70%. Reduces water use by eliminating waste.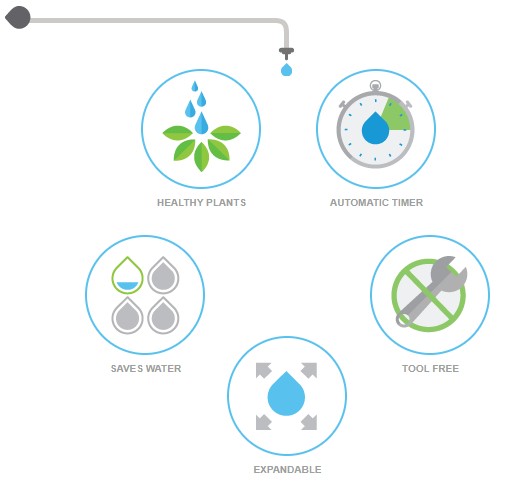 How it works
Easy 1-2-3 installation:  All you need is your hands.
This system is designed to be tool-free and set-up in 3 easy steps. The connections are made to be hand-connected and hand-tightened.
This shows a typical installation. Steps will differ for Container Kit and Garden Kit.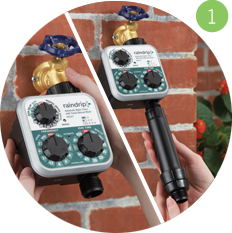 STEP 1:   
Connect the timer and filter/pressure regulator to your outdoor faucet.


STEP 2   
Connect the supply tubing to the filter/pressure regulator and secure to the ground with metal stakes.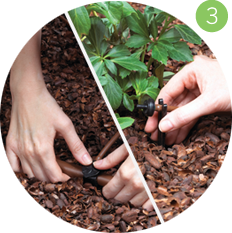 STEP 3   
Attach pre-assembled feeder lines or emitters to supply tubing and position near plants
The timer simply screws on to your hose bibb. As part of the timer installation, we include a filter regulator in our larger kits that also connects simply, using a hose thread, tool-free connection. The supply line then connects to the water source using the same standard hose thread connections.*
Once the supply line has been connected to the water source, it will be laid into the landscape area. Now you can attach our feeder lines that use the tool-free Clamp-n-Pierce® connector to simply puncture the supply line wherever plants are located♰.
In the kits:
Each kit contains everything you need to do a basic installation. In most cases, the installation is tool-free (you may need a knife or scissors to cut tubing). The handy Installation and Inspiration Guide will show you how easy it is to customize the system to fit your landscape. The contents of our 2 landscape kits (Flowers, Shrubs and Trees kit and Ground Cover and Flower Beds kit ) are labelled to correspond with the installation steps.
Expand & Customize
Water up to 75 plants at once with our add-on products.
It's easy to customize or expand your system. You can add additional tubing, feeder lines and fittings to fit your system to your landscape.
* Timers work with all kits, but are only included with the Flower, Shrub, and Tree Kit, the Ground Cover and Flower Bed Kit, and the Container and Hanging Baskets Kit. Timer sold separately for the Vegetable Garden Kit.
♰ Clamp N Pierce is not used in the Container Kit or the Vegetable Garden Kit.